Carnie Cap is the most effective way to cap exposed rebar and reduce the danger of worker impalement. Our unique approach only requires two units for every eight feet of coverage, and can withstand the impact of a 250lb weight dropped from a height of 7 1/2ft! By eliminating job-site injuries, installation time and inventory overhead, Carnie Cap will protect your bottom line.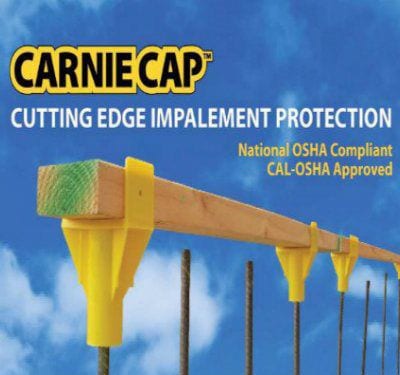 Carnie Cap was initially conceived and tested in Colorado and has utilized a terrific manufacturer in Denver for over 20 years. Carnie Cap, Inc. is excited to announce that we have recently started production of our product at a new plastics molding company located just a few miles from our main offices in Moline, Illinois. This highly professional company's location in the Midwest means shipping will be from a more central location with the possibility of shipping fees decreasing for most of you. We are so happy that this location gives us the ability to take a more hands-on approach to the manufacturing process, provides up to the minute stock levels and allows for shipping 5 days a week with consistently fast lead times. We were able to view the first local run of Carnie Caps and take photos and a short video. Please forgive the choppiness of the video; it was taken by our manager on a cell phone.
CARNIE CAP™ - Creativity in Action
The construction industry may never win red carpet awards but it's the unsung hero of really cool products, genius inventions and hands-on problem solving. There are so many amazing products, one of which is the CARNIE CAP™ system. If you've not heard of a CARNIE CAP™ or better yet, not used the system, you need to. And fast.
Michael Carnicle, a site safety auditor, worried about his co-workers being impaled by protruding rebar. Even though his contractors were using approved precautions, injuries were still taking place. Working with his site superintendents, Michael came up with the idea to place 2"x4"s in two square U-shaped brackets supported by a tube that would slip over and encase the rebar. This concept is what's known today as a CARNIE CAP™.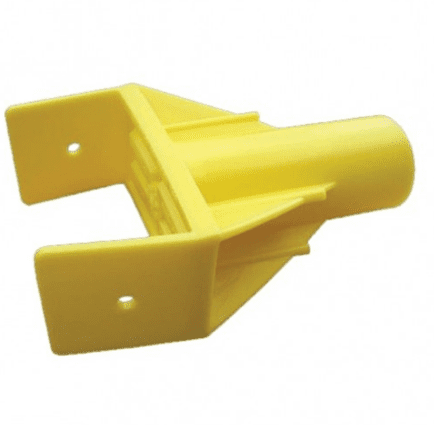 The CARNIE CAP™ system allows builders to comply with OSHA standards which includes the requirement of withstanding a 250-pound weight dropped from 7.5 feet without the rebar breaking through. In fact, CARNIE CAP™ was successfully tested with a 10-foot drop. The system works using only two CARNIE CAPs™ for every eight linear feet of rebar. If you're in California, CAL-OSHA requires spacing every four linear feet and doubling the thickness of the lumber.
The CARNIE CAP™ system comes in two sizes – the standard size (#C-100) for #4 - #9 rebar using nominal 2"x4"s or 4"x4"s and the large size (#CC-200) for #5 - #16 rebar using nominal 2"x6"s.
Mr. Carnicle sold all rights to the Carnie Cap System™ in 2004 but the tradition of excellence carries on. The new owners feel fortunate to carry forward this innovative, life saving device to the construction trade.